The crypto space is in the midst of the biggest bull run in its history, with more attention being focused on cryptocurrencies and blockchain than ever before. Despite this, crypto projects often have a hard time reaching their audience. The blanket ban on all cryptocurrency advertising placed by tech companies like Facebook and Google in 2018 may have been somewhat relaxed, but it's still an uphill battle to be heard.
In such an environment, there is a growing need for a social network dedicated to the cryptocurrency space with news and features that are tailored to their needs. That platform is Blockster. Currently, in a closed testing phase, Blockster is meant to bridge the gap between content creators and their audience. It has a user-friendly interface and includes built-in features such as a news feed with all the latest crypto and blockchain news, a live chat function, and a crypto market tracking feature.
What Is Blockster?
Blockster is an all-in-one social media platform for crypto enthusiasts. It's a place for blockchain hustlers to connect, create, learn, and earn all in one place. Instead of jumping from one platform to another to connect with other members of the crypto community, find the latest blockchain and crypto news, and check live pricing, all this is consolidated on Blockster.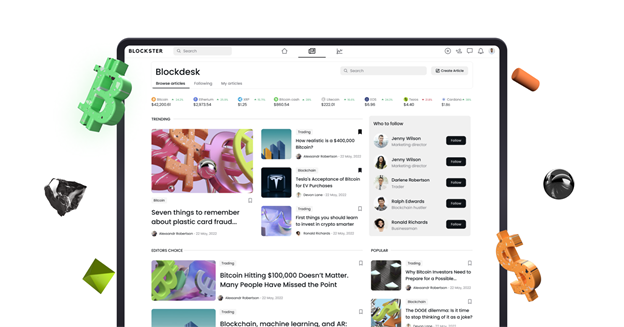 If you're already investing and trading in digital assets, or you're interested in getting started, Blockster is the perfect place for veterans and newbies alike.
Blockster's Native Coin, BXR – What Is It and What Does It Do?
As well as being a social media network and news platform for the crypto curious, Blockster will also soon add a native coin to its offering. The Blockster token (BXR), which will be issued on the Ethereum blockchain, will be used for all advertising and commerce, including the purchase of NFTs and games, on the platform. BXR tokens can also be staked in order to earn revenue.
The BXR token sale will be split into six phases, with the first phase launched on Blockfunder, the Digitex IEO token launch platform on June 7 with a supply of 1 million BXR. A total of 10 million BXR tokens will be sold over the six phases, out of a total circulation of 100 million tokens.
As the user base of Blockster increases, the demand from advertisers, marketplace participants, and stakers grows, and so will BXR's value. Every month, Blockster will burn 5% of all BXR that was spent on advertising, further increasing its value. This makes BXR a great opportunity for investors.
Yield farming will also be possible. After the BXR public sale has ended, 3 million BXR will be allocated to Blockfarm, a yield farming program on Digitex. These BXR tokens will be rewarded to DGTX (Digitex's native token) stakers at a rate of 250,000 BXR per month, for 12 months.
Another utility for the BXR token will be tipping. If a user enjoys a particular piece of content and wants to support the creator, they can do so by tipping in BXR tokens, kind of like an up-vote but in the form of money. This also promotes high-quality useful content on the platform.
P2P sharing of BXR tokens can also also be done instantly and free of charge on Blockster as well as community governance, in which BXR token holders will be able to vote on key elements of the Blockster ecosystem, such as new features of the platform, putting power into users' hands.
Blockster Meets a Growing Need for a Crypto Social Network
Since the advent of Bitcoin, different communities have arisen on various platforms that meet different needs. Social platforms like Twitter and Telegram have a large crypto following, but, if users want to check live market prices, they have to go to a site like CoinMarketCap or CoinGecko. Reddit is the platform of choice for many in the crypto sphere to debate their opinions. However, if they want to watch a crypto video guide, they will probably head over to YouTube. With Blockster, there will be no more jumping between sites, Blockster users will be able to connect, network, debate, share information, learn, as well as trade all in one place.
The unification of a fragmented landscape also means that through Blockster, established crypto and blockchain companies, as well as new projects, can reach a larger and more targeted audience at once. Blockster aims to be the number one social media platform for all cryptocurrency and blockchain enthusiasts and the main entry point for the booming cryptocurrency space.
Blockster Is Set to Disrupt the Crypto Space
If you've been searching for a platform where disparate crypto services are united in one place; where you can earn, connect with fellow enthusiasts, as well as keep abreast of the latest news and happenings in the crypto sector, Blockster is that platform. To use all the advantages it offers, visit Blockfunder on June 7 to stock up on BXR tokens. And keep your eyes peeled for more on this emerging new space.
0 Like(s)
---