Recent data reveals that BSV miners are increasingly holding their block rewards as opposed to selling them on the market. Some argue that this is the result of a decreasing demand for the asset. 
---
Celebrating 1 Year Anniversary
Bitcoin SV celebrates it's first year of mining today, since hard-forking from Bitcoin Cash and striking out to become the 'true' Bitcoin protocol. The project has endeavoured to compete with both Bitcoin Cash (BCH) and with Bitcoin (BTC), but its mining hashrate has remained around 100 times lower than that of the leading cryptocurrency.
BSV did not achieve the resounding success it expected either. Instead, several major exchanges, including Binance, delisted the coins following the doxxing attempt against Hodlonaut. Afterward, the price of BSV fell as low as $50.
Miners of BSV still receive 12.5 coins per block, and currently have produced over 20,000 coins more than the BTC network. However, according to Alistair Milne, CIO of Altana Digital Currency Fund, over 50% of BSV mined never actually moves from the miners' wallets. He asserts that this is due to the sheer lack of organic demand from cryptocurrency investors. Adding that if miners dumped their BSV on to exchanges, nobody would buy them, and the price would subsequently crash.
Around 50% of all $BSV mined is never moved. Hoarded by miners who can't sell as it would collapse the price due to lack of any organic demand.
How long can they sustain this for?

— Alistair Milne (@alistairmilne) November 14, 2019
Looking at data provided by Byte Tree, we can see that this theory appears to somewhat well-founded. The chart below plots the mining management of BSV tokens and how many have been sold by miners over the year since the project began. As we can see, BSV miners tended to bulk sell BSV tokens every 4 months, until recently when they decided to HODL instead.
The cumulative inventory line has continued to climb since June this year in the absence of a third bulk sell, which should've taken place around October time.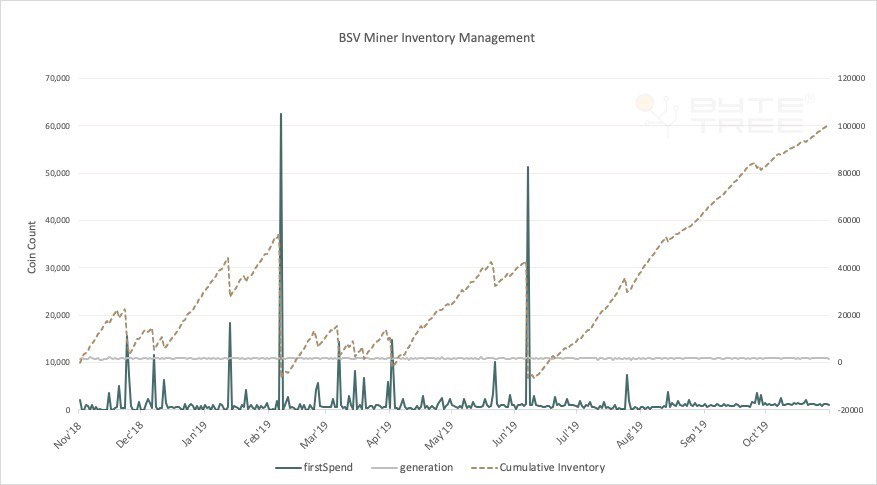 When we compare this to the net inventory of Bitcoin SV over the last 12 weeks, the increased rate of HODL'ing is even more evident.
BSV Lies Dormant as Old Wallets Don't Seek to Split Coins
For BSV, "hodling" behavior is also a part of expectations that the coin may move to the front in the near future. The expectations hinge on warnings by Craig Wright that he would personally move into the markets and destroy the current price dominance of Bitcoin.
Whether this scenario will play out is uncertain. But in the case of Bitcoin SV, there is also the possibility that many coins are inactive simply because their owners never claimed them. Splitting coins through a wallet always has an element of risk, and many have chosen to forfeit the new type of asset.
But in the past year, the increase of dormant addresses is showing a significant uptick, matching the observation of coins getting hoarded.
Few Mining Pools Support BSV
Speaking of BSV miners, the diversity is also smaller in comparison to competitors for BTC rewards. The chief pools that solve blocks include ViaBTC, Coingeek, Mempool, and SVPool. It is possible that some pools cling onto the rewards with the intention of protecting the price. Coingeek has been a very active BSV proponent on social media, and potentially through other means.
But there are still enough miners that may switch their loyalty, and dump the rewards. The other reason for holding onto coins is that the halving for BSV has been inherited from Bitcoin, and may arrive in the spring of 2020. Some pools may try to keep new coins for future use, instead of selling now.
What do you think of BSV hoarding? Share your thoughts in the comments section below!
---
Images via Shutterstock, Twitter @alistairmilne, charts by Byte Tree
The post Bitcoin SV Miners Forced to HODL, Crypto Fund CIO Says appeared first on Bitcoinist.com.
0 Like(s)
---