The popular crypto cashback platform, StormX is now offering users up to $1,000 in rewards for each new person they invite to the platform in its newly introduced referral program.
StormX users now have more ways to earn on the platform, while helping StormX meet its ambitious plans to continue growing its userbase exponentially in the coming months.
From Cashback to Rewards
StormX has been at the forefront of driving mass crypto adoption by enabling people to easily earn cryptocurrencies like Bitcoin (BTC) and StormX (STMX) while shopping online or completing simple micro-tasks on their device.
But StormX isn't the only one trying to accelerate the uptake of cryptocurrencies in the mainstream market. Applications like Lolli, Pei, and Wirex also offer cashback schemes to reward users for their online shopping activities. Thus far, these applications have been instrumental in bringing in a huge number of new crypto fans and converting a significant proportion into deep adherents — helping to push the technology further and broaden its mainstream appeal.
Despite having similar objectives, each of these applications employs varying means to achieve their set goals and all have an enviable list of partners to aid them in broadening the rewards they offer their users. But despite this, StormX is arguably doing the most to truly make cryptocurrencies more easily accessible and more useful to the general public with its wide variety of cryptocurrency earning options and flexibility.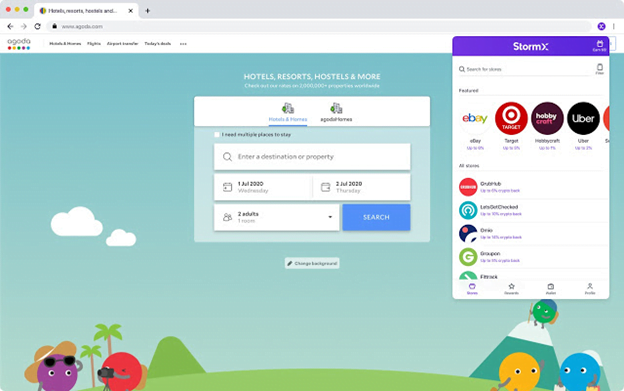 Image: StormX
StormX users can now earn up to 87.5% cashback on their online shopping, withdrawable in any of a variety of cryptocurrencies, and they can also earn regular rewards for completing simple tasks, like watching videos, playing games, and completing surveys through the StormX mobile app. Combine this with the $1,000 users can earn for each and every qualified user they refer, and it becomes clear how StormX represents an attractive proposition for both current crypto users and complete newbies alike.
As it stands, StormX has partnered with well over 500 leading global brands, like Nike, eBay, Walmart, Microsoft, and more — ensuring practically anybody can earn crypto cashback rewards by simply shopping online with their favorite retailers with the StormX Chrome app installed.
The platform is built around a multi-tiered membership system with Gold, Platinum, and Diamond membership levels conferring additional benefits to users. At the top level (Diamond) users are able to boost their earnings by up to 250%, producing by far the best cryptocurrency cashback yields available anywhere.
Simon Yu, CEO and Co-founder of StormX expanded on this recently saying:
"With the potential to earn up to 5.6% cashback at eBay, 22% from AliExpress, and 24.5% cashback at Agoda, StormX offers incredible value for users and an easy way for everyday shoppers to easily gain exposure to a wide array of cryptocurrencies, including Bitcoin, Ethereum, and our native StormX token."
How to Claim Up to $1,000 cashback
The newly introduced rewards program is the latest in a series of updates aimed to provide additional value to the StormX community.
The rewards are scaled depending on the membership level chosen by each newly referred user. Existing users will get $40 for recruiting a new Gold member, $450 for a new Platinum member, and $1,000 for each new Diamond user joining using their referral links. Both the referrer and the referee will receive these rewards, making it a potentially lucrative incentive for both sides of the equation.
Did you already see our latest blog post? We updated our roadmap! Be sure to take a look if you want to know the things we have planned, a lot of great stuff is coming! https://t.co/yLvt6Ky50D

— StormX (@stormxio) August 14, 2020
Rewards will be credited to each user once the minimum eligibility requirements of the reward scheme are met, e.g. by maintaining their membership status for at least 90 days. There is currently no limit on the number of rewards each user can earn, giving each StormX user the capacity to earn potentially tens of thousands of dollars in rewards or inviting their friends, family, followers, or anybody else.
With over 350,000 unique users and millions of app downloads, StormX is growing at a striking rate and looks set to continue this pace well into the future thanks to plans to add staking functionality for StormX token holders in the near future.
0 Like(s)
---